​
We are so grateful for our amazing team of volunteers and can't wait to have you at Storybridge!! We want to make it fun and convenient for you to come get your hands in the work. To accommodate your schedule, we offer opportunities to help with book sorting and book prep each month on the 2nd
Tuesday
evening
, the 2nd
Thursday morning
, and the 2nd
Saturday morning
.
Click on the SIGN UP! button below to see available slots and sign up!
​
If you need to cancel, please delete your signup as soon as possible. This will help us make sure we can fill each available spot. Thank you!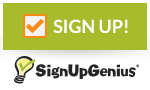 Book Sorting:
We need your help sorting books donated to us from the community. These volunteers assess book quality and then place the book into the appropriate age range (by interest, not reading level):
0-3 years old
4-6 years old
7-9 years old
10-12 years old
You don't need to be a certified teacher or librarian, but it does take a certain minimal experience as a reader/parent/caretaker to be able to sort books by age-appropriateness, so we like our book sorters to be at least 15 years old.
Book Prep:
This team makes sure the books are polished up so they feel as new as possible to the children that choose them. This is an easy job for adults as well as supervised kids 6 and up!
This process involves:
Putting a Storybridge sticker on new books we have purchased
Cleaning the outside of the donated books with wipes to remove dust or sticky spots