​We are so grateful for our amazing team of volunteers and can't wait to have you at Storybridge!! We want to make it fun and convenient for you to come get your hands in the work. To accommodate your schedule and skills, we offer multiple opportunities to get involved
:
Book Sorting
Kinderbridge Playgroups
New Book Stickering
Book Distribution
Book Drives
​Storybridge LIVE Event Prep and Support
​
Read more about the kind of help we need below the pictures. Or go ahead and click the SignUp Genius button right here to claim your spot! Email
sara@storybridgeama.org
with your questions about volunteering for us! With all our hearts, THANK YOU!!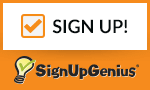 Book Sorting:
We need your help sorting books donated to us from the community. These volunteers assess book quality and then place the book into the appropriate age range (by interest, not reading level):
0-3 years old
4-6 years old
7-9 years old
10-12 years old
You don't need to be a certified teacher or librarian, but it does take a certain minimal experience as a reader/parent/caretaker to be able to sort books by age-appropriateness, so we like our book sorters to be at least 15 years old.
Book Stickering:
When we purchase a shipment of new books, this team makes sure those books get a Storybridge sticker. This is an easy job for adults as well as
supervised kids 6 and up
! Sometimes we have a lot of new books to sticker, and sometimes we're all caught up.
This process involves:
Putting a Storybridge sticker on new books we have purchased
Kinderbridge Playgroups:
We need dedicated volunteers to assist with our Birth-5 guided playgroups. These volunteers need to be physically able to play with small children on the floor and react quickly to keep them safe. The groups are Monday mornings and Tuesday evenings and take 2 hours of volunteer time (setup + 90 minute sessions). The time includes 30 minutes of parent coaching while volunteers play with the kids, and then 60 minutes of whole group activity. Volunteers are needed for the 30 minute playtime without the parents and setup and clean up of supplies and toys.
Storybridge LIVE:
This is our annual fundraiser event at Hodgetown involving 10-12 book characters for kids to meet, face painting, balloon animals, special activities based on well-loved stories, and more! It takes a great volunteer effort to make this event magical for kids and we are so grateful for all who want to help. Some volunteer needs will be:
Blowing up balloons
Setting up supplies
Mascots
Mascot guides
Line management
Ticket taking
and more...
Miscellaneous Events:
Storybridge is frequently asked to attend a community-based event or celebration to give books to kids. Sometimes, we bring the Storybridge Book Trailer to these events and the kids can walk through the trailer to browse the selection and choose what they want most. Sometimes we simply set up a table with books available and sign up eligible children for Dolly Parton's Imagination Library.
Dolly Parton's Imagination Library:
This program is extremely low-maintenance for us to manage since the books are all shipped directly from Tennessee. But we do use a small team of volunteers to enter data in the Book Order System when we have new children enroll. This team is responding to parent requests to change their mailing address when they've moved as well as contacting parents when our system has detected a problem with the address.
Your privacy matters
​Storybridge, Inc. does not share or sell any donor's information with anyone else, nor will we send mailings on behalf of any other organization.